Jax Lowell
Dear Reader: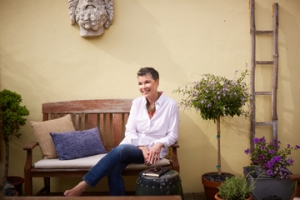 I didn't wake up one morning and say, "I think I'll invent a whole new book category." Nor did I imagine all that came with it –crisscrossing the country on a gluten-free speaking tour, being interviewed on NPR and the Food Network, all the amazing and moving letters, waking up to a review in The New York Times, meeting people just like me. I could not know that one day I would receive the prestigious Leeway Foundation Transformation Award for my pioneering efforts in bringing national awareness to the issue of gluten intolerance. Fiction and poetry were my passions.
Being ravaged by a frightening and unknown illness called celiac disease, the cure for which was a nosebleed steep learning curve called the gluten-free diet was not part of the plan. Certainly not having to forage for safe food on a daily basis and trying to do this in a still gluten-ignorant America. There were no gluten-free cartoons in The New Yorker in the early eighties. No gluten-free vegan bakeries on every corner and what little bread was available was best used to Spackle a wall. With a labeling law still two decades away, grocery shopping required a magnifying glass and a working knowledge of chemistry. To make matters worse, no Internet.  Zero reading material.
And so in a long tradition of writers believing in the power of story to change lives and to give voice to those in need of one, I wrote not what I knew, but what I wanted to know when I was so sick and isolated. Henry Holt published Against The Grain: The Slightly Eccentric Guide to Living Well Without Wheat and Gluten in 1995, the bestselling Gluten-Free Bible in 2005. The Gluten-Free Revolution arrives February 2015.
I did not give up on my literary aspirations. I am the author of the novel, Mothers, originally published in l996 by St. Martin's Press. Last year The Authors Guild brought out a gorgeous 20th anniversary edition for which I wrote a new Author's Note to commemorate the historic legal strides being made for marriage equality. Among the journals that have published my poems — Poetry East, The Pinch, Alimentum, and the University of Iowa journal, An Examined Life. I have received a citation from the New York Council on the Arts. A group of poems have been honored with first prizes and public readings in juried shows at East End Arts on Long Island's North Fork, where I recently served as a poetry juror alongside the eminent poet Grace Schulman and Maryanne Calendrille, co-owner of Cannio's Books, Sag Harbor, New York. These days I am working on a second novel and a tangled web of connected stories.
I came to the writing life from the creative side of an award-winning career in advertising, and was voted "One of The Best and Brightest Women in Advertising" by Ad Age magazine. Before that, I was a fashion writer and copy chief of the legendary Bergdorf Goodman.
In the grandaddy of all ironies, I make my home in Philadelphia in what was once a bread factory.